Vaping
Let's clear the air, vaping isn't worry free!
There are a lot of myths regarding e-cigarettes (also known as JUULs, vapes, e-cigs, or other devices). Learn the facts below!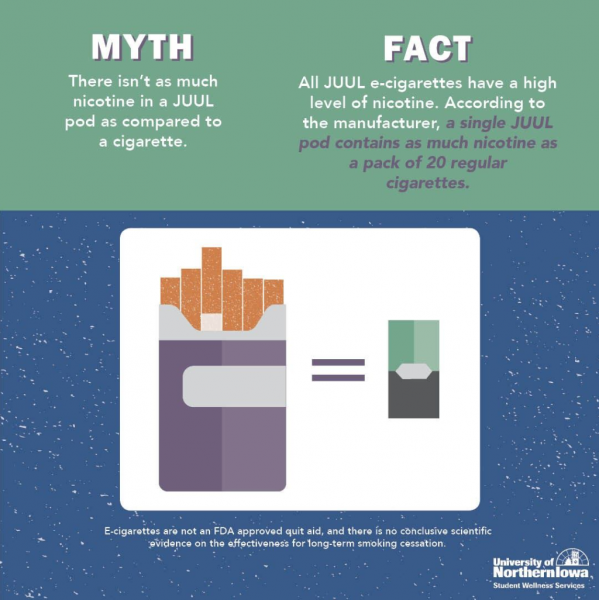 Juul pods contain high level of nicotine.
Even if listed otherwise, many vape juices or pods contain nicotine. In fact, a single JUUL pod contains as much nicotine as a pack of 20 regular cigarettes, according to the manufacturer.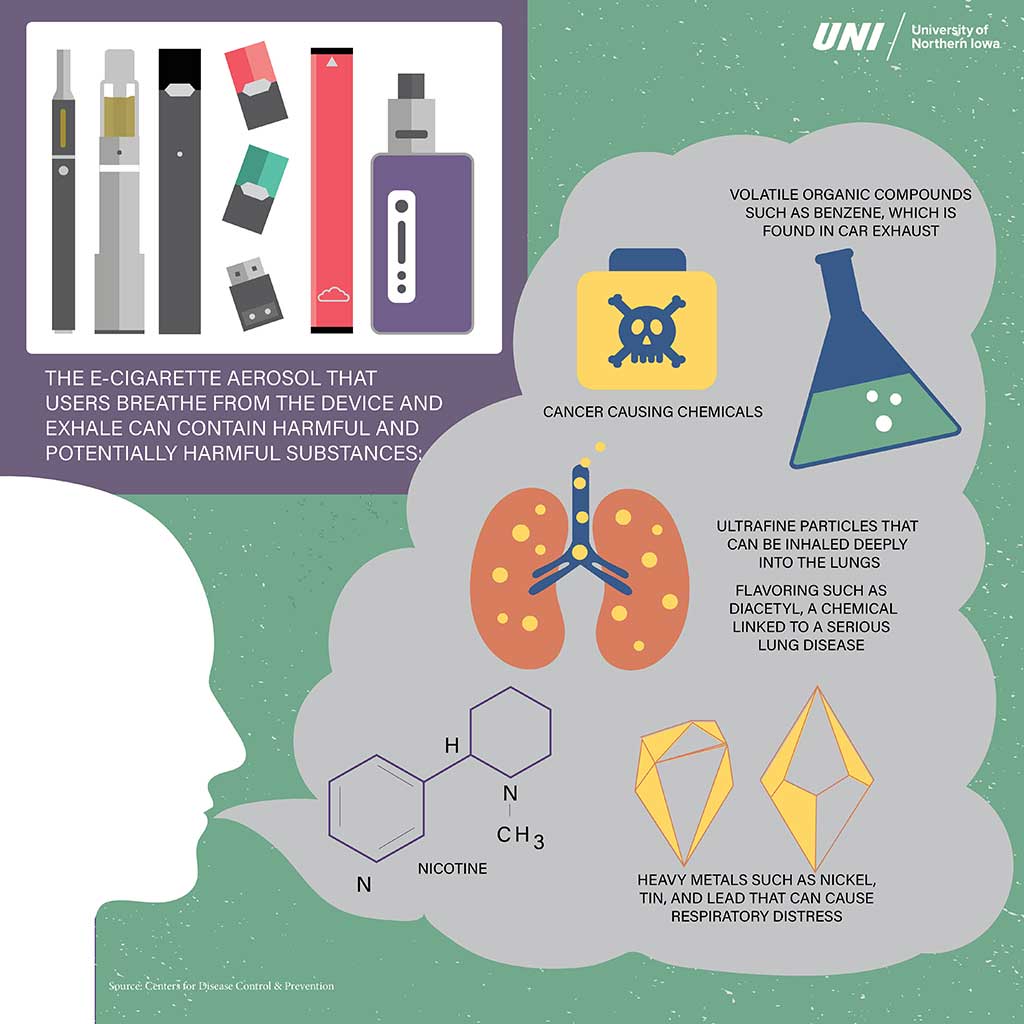 Vape clouds may contain more than you realize.
The aerosol that's created when an e-cigarette/vape heats up the liquid is not just water vapor. It contains harmful substances, including heavy metals, cancer-causing chemicals, volatile organic compounds such as benzene (found in car exhaust), and nicotine. Some compounds have been linked to cell and DNA damage.
Nicotine can harm brain development.
Nicotine is a highly addictive substance that can harm brain development, which continues until about age 25. When young adults expose their brains to nicotine, they are vulnerable to nicotine addiction, may have trouble paying attention and concentrating, and experience mood disorders and reduced impulse control.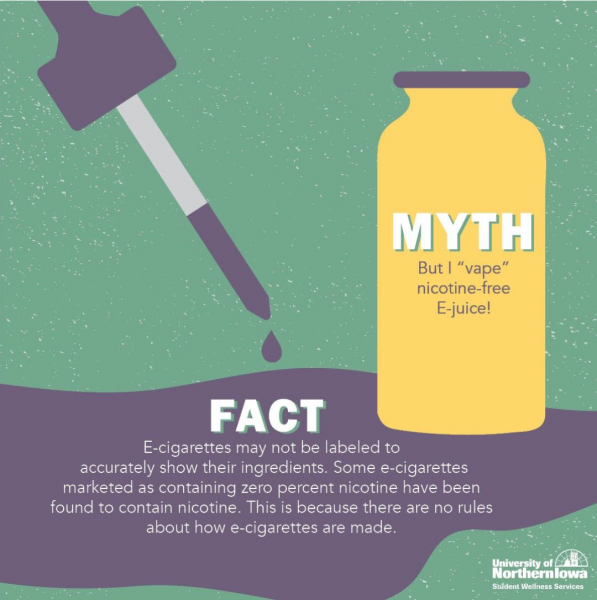 E-cigarettes may not be labeled correctly.
E-cigarettes may not be labeled to accurately show their ingredients. Some e-cigarettes containing zero percent nicotine have been found to contain nicotine.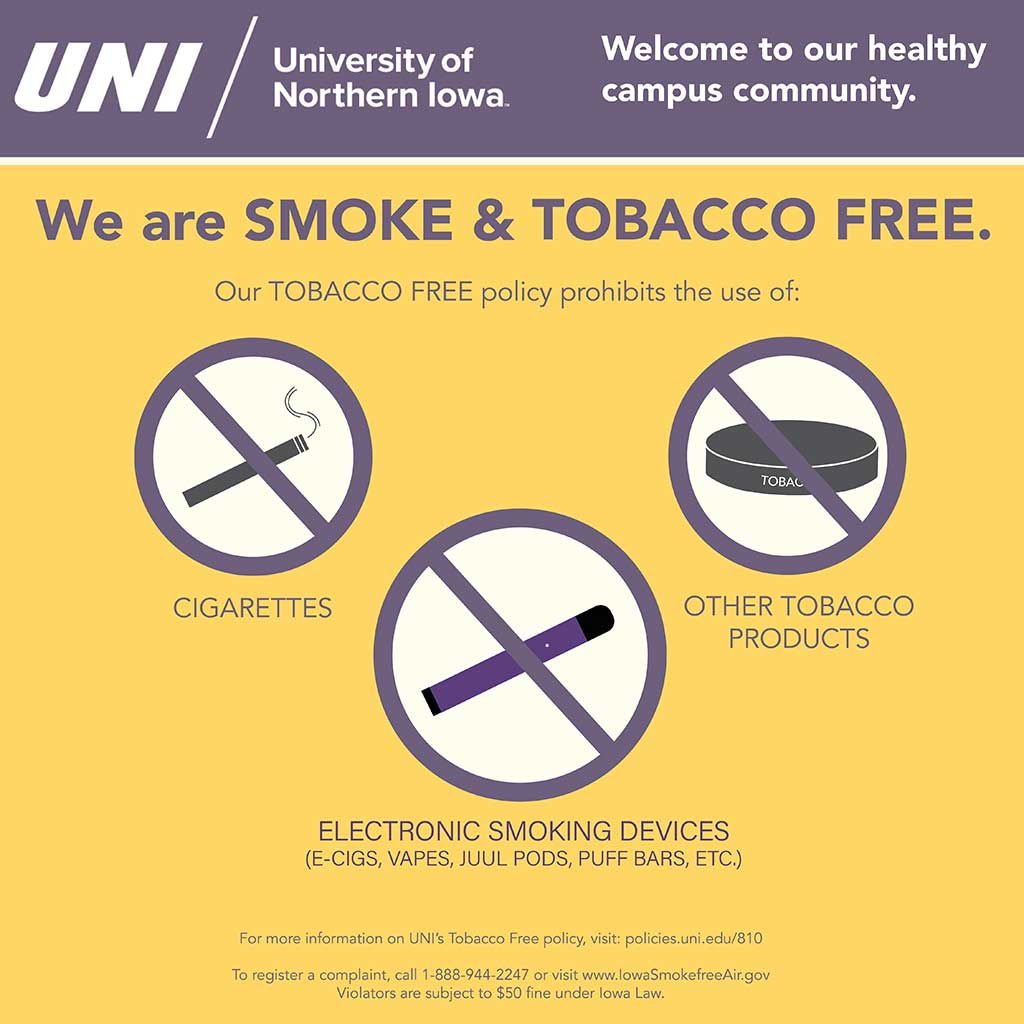 UNI is a tobacco free campus.
JUULs and other vaping devices are considered noncombustible tobacco products, meaning they are not allowed on campus,
according to UNI's policy
.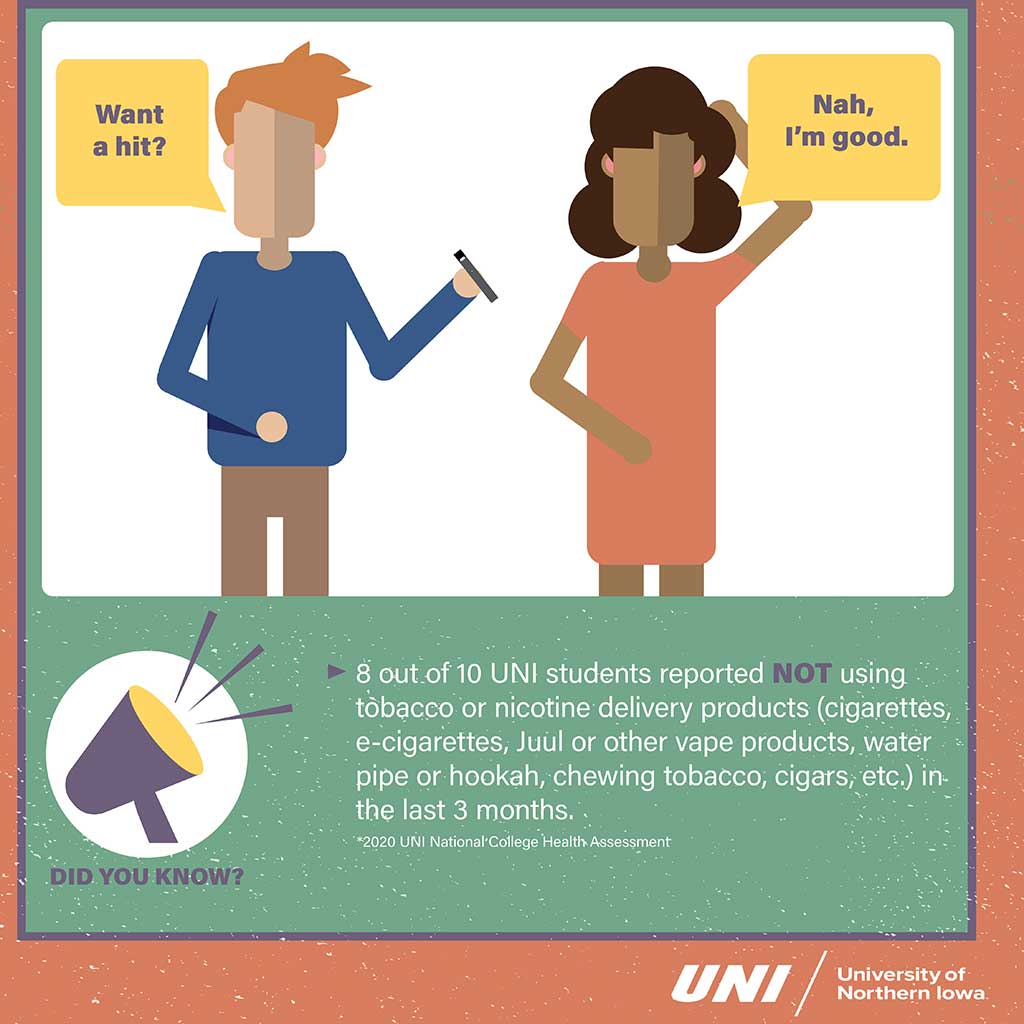 Ready to quit vaping or help a friend?
Quitting doesn't have to be a solo journey. For those looking to ditch the JUUL, help is available!
Check out these online resources:
Quitline Iowa: 24/7 coaching by phone and additional support via email, text, or instant message. Participants work with a coach to prepare a quit plan, set a quit date, understand triggers, manage cravings and address relapses.
Become an Ex: Free, customized quit plan; smart, interactive guides; expert advice and quit techniques from the Mayo Clinic--delivered right to you by email or text.
This is Quitting: text-to-quit vaping service that is available 24/7. Free and confidential help with cravings, stresses, and slips. More than 150,000 people have used this program.
Still have questions about vaping or looking for on-campus resources? Call the UNI Student Health Clinic at 319-273-2009 or email wellness@uni.edu.